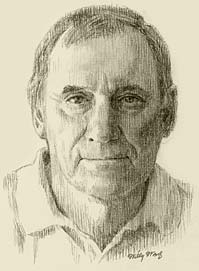 Eugene Wilshire can be reached at
ewilshire@wilshirescott.com


Gene was born March 5, 1945 in Bonham, where he spent his childhood and graduated from high school in 1963. In the fall of that year, he entered the University of Arkansas at Fayetteville on an athletic scholarship. While there, he majored in English and met Linda Ann Williams. Gene and Linda were married in January 1968. In 1968, Gene entered the United States Army and served in the 501

st

Military Intelligence Group in the Republic of Vietnam. After discharge in 1971, Gene entered Bates College of Law at the University of Houston, graduating Magna Cum Laude in December 1973. Also in December 1973, he was licensed by the Supreme Court of Texas after making an honor grade on the bar examination.

Shortly after beginning his legal career, Gene joined the firm of Bonham, Carrington & Fox, P.C. and focused his practice in commercial litigation. In June 1986, Gene, Jackie Scott, Pat Dyer and Joseph J. ("Tad") Halbach formed the firm that is now

Wilshire & Scott P.C.

Gene was board certified in the specialty of Civil Trial by the Texas Board of Legal Specialization in 1979 and as a Specialist in Civil Trial Advocacy by the National Board of Trial Advocacy in 1989. He is member of the American Bar Association, the State Bar of Texas, the Houston Bar Association, and a Life Sustaining Fellow of both the State Bar of Texas Foundation and the Houston Bar Association Foundation. Gene is also a member of the American Association of Trial Lawyers, the Texas Trial Lawyers Association, the Houston and Texas Associations of Civil Trial Specialists. He is admitted to practice before the Supreme Court of the United States, U.S. Courts of Appeal for the Third, Fifth and Sixth Circuits, U.S. Tax Court, Court of Claims, U.S. District Courts for the Southern, Eastern, Northern and Western Districts of Texas, as well as all Texas state courts. In In 2006, 2007 and 2008, Gene was named a Texas Super Lawyer in the field of business litigation by the publishers of Law & Politics magazine and Texas Monthly magazine.

Linda and Gene have two sons, Matt and Jed. Today, Matt practices law in Washington, D.C., and Jed is a high school mathematics teacher in Austin, Texas.